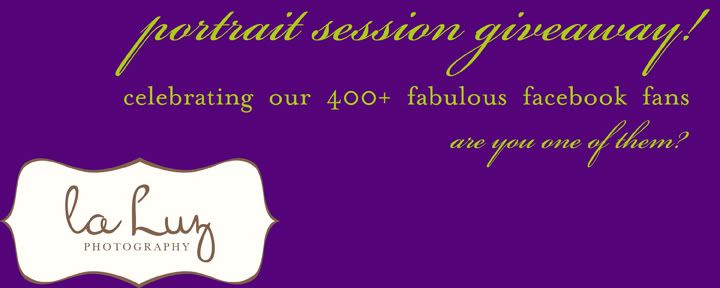 To Win:
* Please comment on this blog post, telling me about your dream photo shoot with me. Give me the details! Where? With whom? Any props involved? How would you want your shoot to be different and unique? Any aspects of your personality you'd like to incorporate into your shoot? What makes this shoot special to you? Dream big, but remember what's possible. Just remember: You could actually be planning your shoot with me!
* Only one entrance per fan.
* I am totally willing to travel for this photo shoot. Travel costs will be covered by the winner.
The Details:
* Giveaway is open to all Facebook fans. Winner's name will be cross-referenced against the Facebook fan list. To become a fan, click here.
* The winner of the giveaway will receive a complimentary portrait session, valued at $250. Sessions are shot at the location of your choice and last for approx. 1 hour. Also included is one 8×10 and two 5×7 prints.
* Past winners are unfortunately excluded.
The winner will be chosen on Friday March 12th at 12pm PST.